Academic Programs
An overview of the contents of our courses, such as our systematic, integrated, practical curriculum.
TOP PAGE 〉Academic Programs 〉MBA Program
MBA Program
(Daytime, Evening Courses)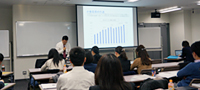 Aoyama Business School offers Daytime and Evening Courses. While most of the classes of the Daytime Course are carried out during the daytime on weekdays, the Evening Course is designed for people already in the workforce, with classes held on weekday evenings and on Saturdays. Admission to the evening-time program requires at least three years of work experience.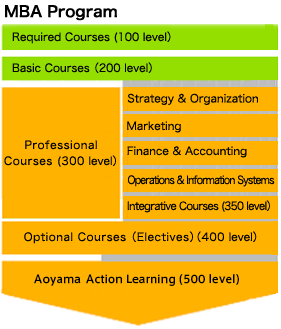 The curriculum structure for both Daytime and Evening Courses is identical. There are only two differences between the two courses, time of the classes and requirement of work experience. Aoyama Business School's MBA program is based on coursework and therefore does not require the submission of a thesis. The MBA curriculum is made up of the following course groups:
100 level - Required Courses: 
Develop a basic foundation in each field of management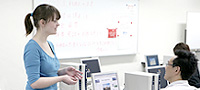 Students gain fundamental knowledge in subjects which are essential to corporate management; Management Strategy, Organizational Behavior, Marketing, Accounting, Finance, Operations, Business Ethics, Economics, and Statistics. These courses provide the fundamental concepts and framework in each management field.
200 level - Basic Courses: Acquire methodologies, international perspectives, communication skills and more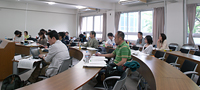 Students gain methodological competence, an international perspective, ethical standards, and communication skills that are common across management fields. These courses are taken in the second semester of the first year or in the second year of the MBA.
300 level - Professional Courses: Gain specialized knowledge in individual fields of management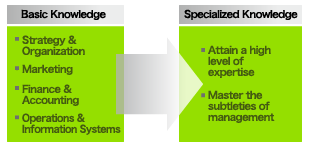 Students gain expertise in the management fields of their choice. Beginning in the second semester of the first year of the MBA program, students can take courses in four specialized fields: Strategy and Organization, Marketing, Finance and Accounting, and Operations and Information Systems. These courses deepen knowledge and offer expertise that is essential to professional managers.
Optional Courses(Electives)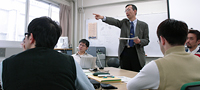 Aoyama Business School students may take up to four credits of graduate subjects outside ABS, including courses from Aoyama's other professional schools, the Law School and Graduate School of Professional Accountancy.
Aoyama Action Learning (500 level):
Integrate knowledge and improve intra-group coordination abilities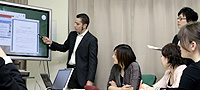 Students take Experiential Learning Project (500 level) courses in their second year, putting their newfound knowledge to practical use through realistic games, simulations and seminars. All 500 level courses have the following three points in common:
Experiencing and thoroughly learning how the functions of each field of management are related, with the aim of integrating this knowledge

Experiencing ways to improve execution by considering how analysis tools are used in practice

Undergoing training in groups to work together, balance and making use of each member's personality and characteristics while making quick decisions and acting upon them.
FY2021
Required Courses (100 level)
| | |
| --- | --- |
| | Class list |
| 101 | Strategic Management |
| 102 | Finance |
| 103 | Marketing Management |
| 104 | Accounting |
| 105 | Operations Management |
| | |
| --- | --- |
| | Class list |
| 106 | Business Ethics |
| 107 | Managerial Economics |
| 108 | Statistical Analysis I |
| 109 | Organizational Behavior |
| | |
Basic Courses (200 level)
| | |
| --- | --- |
| | Class list |
| 201 | Macroeconomics |
| 202 | Macroeconomics Data Analysis |
| 203 | Statistical Analysis II |
| 204 | Business Game |
| 205 | Operations Research |
| 206 | Business Philosophy |
| 207 | Culture, Religion and Business Ethics |
| | |
| --- | --- |
| | Class list |
| 208 | Business Ethics and Leadership |
| 209 | Intercultural Management and Leadership |
| 210 | Career and Leadership Development |
| 211 | Presentation Skills |
| 212 | English for Global Communication |
| 213 | Advanced English for Global Communication |
| 214 | Acting for Business |
Strategy & Organization (300 level)
| | |
| --- | --- |
| | Class list |
| 301 | Global Management |
| 302 | Game Theory and Management |
| 303 | Econometrics and Management |
| 304 | Competition Strategy |
| 305 | Corporate Strategy |
| 306 | Innovation Management |
| 307 | New Business and Venture |
| | |
| --- | --- |
| | Class list |
| 308 | Entrepreneurship |
| 310 | Social Networks and Organizational Dynamics |
| 311 | Social Entrepreneurship |
| 312 | Human Resource Management |
| 313 | Advanced Management |
| 314 | Management Seminar (1) |
| 315 | Management Seminar (2) |
Marketing (300 level)
| | |
| --- | --- |
| | Class list |
| 301 | Consumer Behavior |
| 302 | Marketing Research |
| 303 | Brand Strategy |
| 304 | Strategic Pricing |
| 305 | Fashion Retailing |
| 306 | Marketing Communication |
| 307 | CRM Strategy |
| 308 | Marketing Decision-Making Models |
| 309 | Marketing Strategy Game |
| 310 | Marketing for Regional Vitalization |
| 311 | Planning for Regional Vitalization |
| | |
| --- | --- |
| | Class list |
| 312 | Regional Revitalization - Kamiyama Project |
| 313 | Managerial Marketing |
| 314 | Sales Marketing |
| 315 | Service Marketing |
| 316 | Marketing Strategy |
| 317 | Smart Agriculture Innovation |
| 318 | Smart Digital Innovation |
| 319 | Marketing(Advanced) |
| 320 | Marketing Seminar (1) |
| 321 | Marketing Seminar (2) |
| | |
Finance & Accounting (300 level)
| | |
| --- | --- |
| | Class list |
| 301 | Corporate Finance |
| 302 | Sustainable Finance |
| 303 | International Finance |
| 304 | Investment |
| 305 | Securities Data Analysis |
| 306 | Derivatives |
| 307 | Security Investment Theory |
| 308 | Financial Reporting |
| 309 | Mergers and Acquisitions |
| 310 | Corporate Financial Strategy |
| 311 | Financial Accounting |
| | |
| --- | --- |
| | Class list |
| 312 | Managerial Accounting |
| 313 | Tax Planning |
| 314 | Accounting Information and stock Market |
| 315 | Corporate Valuation |
| 316 | Financial Statements |
| 317 | FAST |
| 318 | Introduction of Financial and Capital Markets |
| 319 | ROE Management |
| 320 | Advanced Finance |
| 321 | Finance and Accounting Seminar (1) |
| 322 | Finance and Accounting Seminar (2) |
Operations & Information Systems (300 level)
| | |
| --- | --- |
| | Class list |
| 301 | IT Management |
| 302 | IT and Management Strategy |
| 303 | Supply Chain Management |
| 304 | Supply Chain Modelling |
| 305 | Operations Management Leadership |
| 306 | Internet Business |
| 307 | Digital Marketing |
| | |
| --- | --- |
| | Class list |
| 308 | Public Relations in the SNS Era |
| 309 | Business Data Analysis |
| 310 | Global IT |
| 311 | Project Management |
| 312 | Operations and Information Systems (Advanced) |
| 313 | Operations and Information System Seminar (1) |
| 314 | Operations and Information System Seminar (2) |
Integrative Courses (350 level)
| | |
| --- | --- |
| | Class list |
| 351 | Statistical Method |
| 352 | Advanced Statistical Method |
| 353 | Research Methodology |
| 354 | Health Care Management |
| 355 | Medical Economics |
| 356 | Innovation and Organizational Culture |
| 357 | Innovation and Organizational Transformation |
| 358 | Fashion, Business and Culture |
| 359 | Entertainment Business |
| 360 | Consulting Project |
| 361 | Law and Economics in Business |
| | |
| --- | --- |
| | Class list |
| 362 | Market and Organization |
| 363 | Business History |
| 364 | Corporate Governance |
| 365 | Risk Management and Compliance |
| 366 | Overseas Study Seminar I |
| 367 | Overseas Study Seminar II |
| 368 | Overseas Study Seminar III |
| 369 | Internship |
| 370 | International Management Seminar I |
| 371 | International Management Seminar II |
| | |
Aoyama Action Learning (500 Level)
| | |
| --- | --- |
| | Class list |
| 501 | Management Game |
| 502 | Advanced Corporate Communication |
| 503 | Business Analysis and Fund Management Simulation I |
| 504 | Business Analysis and Fund Management Simulation II |
| 505 | Business Planning |
| 506 | Business Design |
| | |
| --- | --- |
| | Class list |
| 507 | Marketing Planning Project |
| 508 | SDGs and Community Marketing |
| 509 | Finance & Technology |
| 510 | Internet Business Project I |
| 511 | Internet Business Project II |
| 512 | Project Report |
Research Methodology (Ph.D./DBA)
| | |
| --- | --- |
| | Class list |
| 001 | Statistical Method I |
| 002 | Statistical Method II |
| 003 | Research Methodology |
| 004 | Special Topics in Management |
| 005 | Special Topics in Finance |
| 006 | Special Topics in Marketing |
| 007 | Special Topics in Operations and Information Systems |
| 601 | Research Seminar I |
| | |
| --- | --- |
| | Class list |
| 602 | Research Seminar II |
| 603 | Research Seminar III |
| 701 | Research Guidance I |
| 702 | Research Guidance II |
| 703 | Research Guidance III |
| 704 | Research Guidance IV |
| 705 | Research Guidance V |
| 706 | Research Guidance VI |