Academic Programs
An overview of the contents of our courses, such as our systematic, integrated, practical curriculum.
TOP PAGE 〉Academic Programs 〉Program outline
Program outline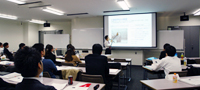 Aoyama Business School has two MBA programs, each with a different target, and two different doctoral programs (Ph.D. and DBA). The goals and features of each program are explained in the program details.
MBA Program
Program
features
Period
Daytime courses
2 years
Weekday night and Saturday courses. Requires more than 3 years of business experience.
2 years
Ph.D. and DBA Programs
Program
features
Period
5-year course to train academic researchers who already hold bachelor's degrees
5 years
Course to train practical researchers who already hold master's degrees
3 years