Mission and Strengths
An overview of the advantages and offerings of Aoyama Business School, which strives to be a business school leader both intellectually and emotionally
Mission
The Mission of Aoyama Business School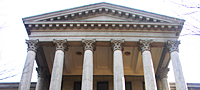 The Graduate School of International Management contributes to fostering creative leaders who fulfill their social responsibility and serve as global citizens, and to developing a prosperous future through our leading research activities.
Social Responsibility

Global Citizenship

Creative Leadership
The Ideals of Aoyama Business School
In order to achieve its mission, the MBA program cultivates management professionals who come to conclusions based on independent thinking and analysis. ABS ceaselessly strives to improve its programs. The doctoral program does not merely teach business research techniques, but also cultivates contributors to the workforce who are aware of the social significance of their research, possess a well defined sense of purpose, and can be active on the international stage.
The following three features illustrate the nature of ABS.
Systematic, integrated and practical learning system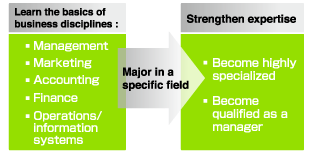 ABS offers a systematic, integrated, and practical curriculum combining elements such as the acquisition of specialized expertise, synthesis of cross-functional knowledge, and study and practice of methodology through individual learning and group activities. Students first learn the fundamentals of the four fields necessary for corporate management: Strategy " Organization, Marketing, Finance " Accounting, and Operation " Information Systems. Then they focus on one of those four. This allows students to develop a high level of specialization while also gaining proficiency in all fields of management, thus becoming properly qualified managers.
Global Action Learning, an MBA capstone course, offers a practical arena for testing integrated knowledge, coordinating skills within groups, and practicing methods for handling different cultures.
ABS courses incorporate leading business research
Courses are taught by cutting-edge researchers and teachers with bountiful professional business experience. We feel that incorporating research pertaining to the latest business theories and issues facing corporations into the classroom enables education that is rich in theoretical features as well as in practical business content.
Instead of merely following a pattern of uninterrupted teacher lectures, our courses incorporate elements such as debate, case-method teaching and project-oriented study.
Curriculum based on global standards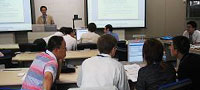 In order to succeed in our mission to cultivate management professionals who can be leaders in the ever more global economic arena and society, ABS strives to be a holistic business school that conforms to global standards.
Aoyama Business School is affiliated with both the Association to Advance Collegiate Schools of Business (AACSB), an institution that certifies business schools in the USA, and the European Foundation of Management Development (EFMD), which serves a similar function in Europe. ABS is also affiliated with the Alliance on Business Education and Scholarship for Tomorrow, a 21st century organization (ABEST21), which is a business school federation centered in Asia and the USA.
In order to integrate viewpoints from corporate managers and business experts, we are evaluated by an outside advisory board every year. As a result, the ABS curriculum encompasses strategic thinking methods taught at top business schools around the world.
The History of Aoyama Business School
The cornerstone of Aoyama Business School is the Master's Course in International Business, which was established in April 1990. It was the first graduate-level program offered by a private university in Japan consisting of night courses designed for managers already in the workplace. In April 2001 it was reorganized into the "Graduate School of International Management," the first technical graduate program offered by a private university in Japan. Then, in April 2003 it was designated as a professional school with the same name, and has continued as such to the present.
With the goal of better cultivating practical researchers, we established the 5-year unified International Management Science doctoral program in April 2006.
Historical Summary of Aoyama Business School
Date
Development
April 1990:
International Business Major, graduate-level night school
ABS launched the first graduate program offered by a Japanese private university in a night school format.
April 2001:
International Management Major, Technical Graduate School
We launched the Graduate School of International Management, an independent graduate program. conforming to the "Technical Graduate School Establishment Standards" of the Ministry of Education, Culture, Sports, Science and Technology.
April 2003:
International Management Major, Professional School
ABS converted from a technical graduate school to a professional school and launched the international management master's program (MBA) and international management doctoral programs (Ph.D. and DBA).
April 2006:
International Management Science Major
ABS reconfigured the doctoral program into a five-year unified International Management Science major.